I was looking at the pictures I took of sheldon when I first got him... And my old pictures of his first setup. I can't believe the difference in his shell, personality... Even his skin is brighter than it used to be! I thought I would post some of the pictures so maybe new members could see that even if you start out with the wrong info, it's never too late to improve your turtles life!
This is a couple days after I got sheldon. As you can see he has algae build up on most of his shell, and possible fungus on the back half of his shell.
A friend of mine worked at a vet clinic, they gave him a check up then gave him to me. They had attempted to clip his nails (showing the lack of knowledge about turtles) then gave him to me saying all I needed were a heat bulb and a dock, my current setup was perfect... Quickly realized they were clueless
I had a 29 gallon (tall) aquarium at the time with gravel substrate, and a cheap submersible filter. I lurked on the forum for a little bit and started realizing how much needed to be changed. This was my first attempt at improvement...
I had changed the substrate to river rocks, and added an ATBA and proper lighting. I'm pretty sure at this point is when I was finally brave enough to post on this forum. Then I started getting advice on the great importance of filtration, and came to terms with the reality that a larger tank was in our future.
Sheldons shell was already beginning to show improvement from the improved lighting and basking...
Then I convinced my husband that we really needed a bigger tank. We looked around and decided that a 55 gallon looked perfect. It actually looked gigantic to us at the time lol... This is the only picture I have on photobucket, but at this point he has an ATBA built on a 55 gallon with sand substrate, a Fluval 405, and appropriate lighting. Even a cool black light for added entertainment...
Now Sheldon has finally made it to his forever home. His 100 gallon mansion! ATBA is still not complete, but its functional.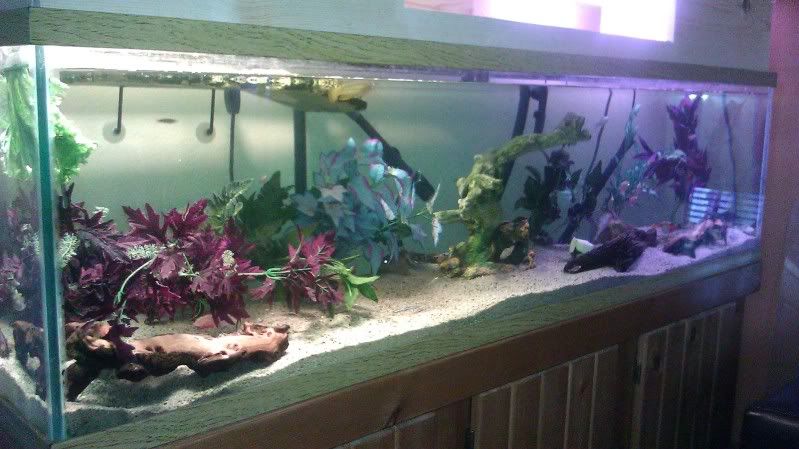 (bad picture, sorry)
All that I need now is a bigger filter (thinking fx5) and we are good to go!
This is my thank you to all the members of this forum, you guys have truly made it possible for Sheldon to live a long happy life! I remember when I first posted ...all the things I had been doing wrong seemed so overwhelming, but going one step at a time even on a tight budget its possible!