I'd bet there are a lot of conscientious turtle owners who continue to keep gravel in the tank in spite of all the danger warnings. I was one of them.
I thought, "Hey, I'd know if my turtle was eating and pooping rocks…" That was a few weeks ago. I was wrong. They are very easy to miss!!!
I saw Penelope chomping on gravel, but dragged my feet a week or so before replacing it with large river rocks (being sure to meticulously remove all gravel).
Up to that point, I fed her in a separate tank and didn't see her passing any rocks, so I assumed everything must be fine. Well...
A few days after the tank transformation, I found several pieces of gravel at the bottom of her tank.
There is only one way they could have gotten there ~
Yep! Penelope pooped them out.
I've posted a picture just to add that bit of realism to the words we all read (no, I didn't dig around in poop; they were already clean by the time I found them).
Notice the size? I wonder how many got past me when I was so "certain" she was 'gravel-free' It's pretty scary.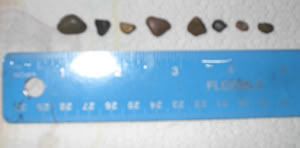 I was lucky, and so was Penelope. My ignorance could have really caused some damage. Had I kept the gravel who knows how many times it may have been "recycled" without me knowing it.
Now, look at the "Sticky" at the top of this forum page (Anatomy of a Turtle) and picture where all the little gravel travels. Remember, just because you don't see it, doesn't mean it isn't happening. Get rid of that gravel!!!!!
[admin-added some additional info]
From:
viewtopic.php?f=5&t=35857
ljapa wrote:In looking for some information on the toxicity levels of nitrite and nitrate for turtles, I've bee deep down the rabbit hole of scholarly articles on RES. I didn't find what I was looking for, but did find some cool stuff, including a 2004 dissertation trying to examine the dietary change from carnivore to herbivore in yellow bellied sliders.

However, I did find a short veterinary article describing the case of a 2.5 year old RES who went in because of eating too much aquarium gravel.

I know some RES don't do this, but if I hadn't switched to sand, this would convince me:

http://www.ncbi.nlm.nih.gov/pmc/article ... 2-0057.pdf