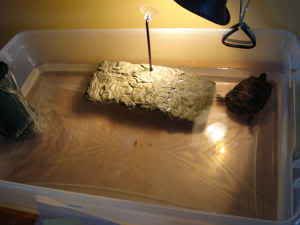 Now I know you're wondering why I would be posting a turtle swimming in water in the "Box Turtle and Turtle Discussion" area but this is the text accompanying the picture...
"I have a very cute little box turtle. He comes this his tank, food, rock, and fitler. I am asking $10 rehoming fee for him. He has quite the personality! We are going out of town for a few weeks and I don't know anyone here to watch him for me seeing as we just moved here! Thanks for looking."
Please tell me that this kid is wrong that the turtle is a boxie and that it's just a horrible set up for an aquatic turtle.