I wanted to take some time to upload some pictures and to show a visual history of the improvements I have made for my RES. Thanks largely in part to this site and all of the great people here.
This first tank is just after I inherited the turtle. He came with a 20 gallon tank, a HoB filter that was rated for 20 gallons and some sea shells and a fixed temperature heater.
I frantically read up on RES care and ran out to get a better filter some lights, thermometers, a basking platform and I made the mistake of buying "Turtle Rock" for his substrate. This picture was from October 2011, shortly after I got him and "upgraded" his original tank setup.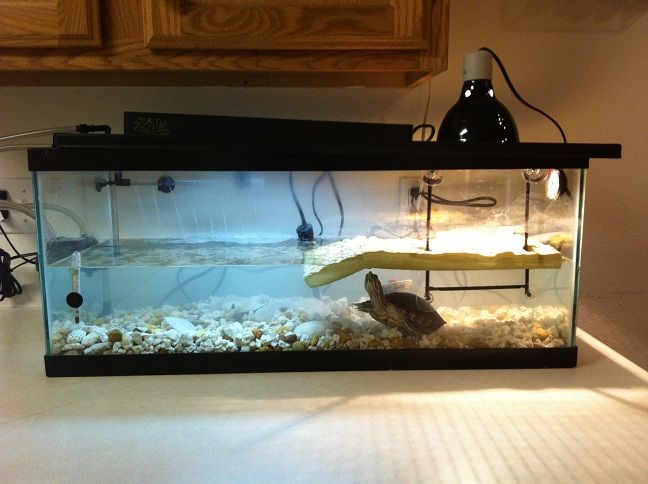 Franklin had a much better improved life, although I cursed his little body every weekend when I had to clean his tank. I quickly realized that the one ZooMed 501 "Turtle" canister filter was not going to cut it... So like an Idiot I figured well if one isn't enough then I guess I will go buy ANOTHER one so I had two for a long time and although it helped I was still cleaning two worthless filters almost every weekend plus complete water changes every other week.... After about two months of removing and cleaning the rock I finally ditched it and went with large stacking stones to use along the bottom of the tank.
Fast forward 10 months, dozens of hours of pouring over this site and convincing my wife that our turtle needed more space. A friend hooked me up with a 55 gallon tank, I purchased and assembled an aquarium stand, purchased a larger heater and upgraded from the two inadequate ZooMed 501's to a Fluval 406.
Here is the upgraded tank as of August 2012.
After getting some valuable feedback and discovering that now that I had upgraded to a larger tank I no longer had adequate lighting for his basking area I went out and got more the appropriate lighting and a lamp stand (such a life saver). This meant I could have all the light I needed for my little guy and not need to keep a screen over the top of the tank.
Here is the updated lighting setup.
And a picture of Franklin with his tank mates (former feeder fish who grew too big to be eaten and have earned the right to live)
Well a couple of months had gone by and I figured it was time to liven up his home, I purchased a nice cling to put on the back of the tank and a decorative fake piece of wood and a Fluval air pump with a large air disk and a flexible air wall hose. After about two weeks of the new decorations I realized my turtle had grown in the last year and was barely able to fit on his basking platform without half hanging in the water. So I also upgraded him to a extra large sized ZooMed Turtle Dock of which he promptly started to chew on and eat. I got over that scare and he convinced me that if I fed him just a little more often he wouldn't eat his dock anymore. I figured it was a good compromise lol. Here is the complete setup today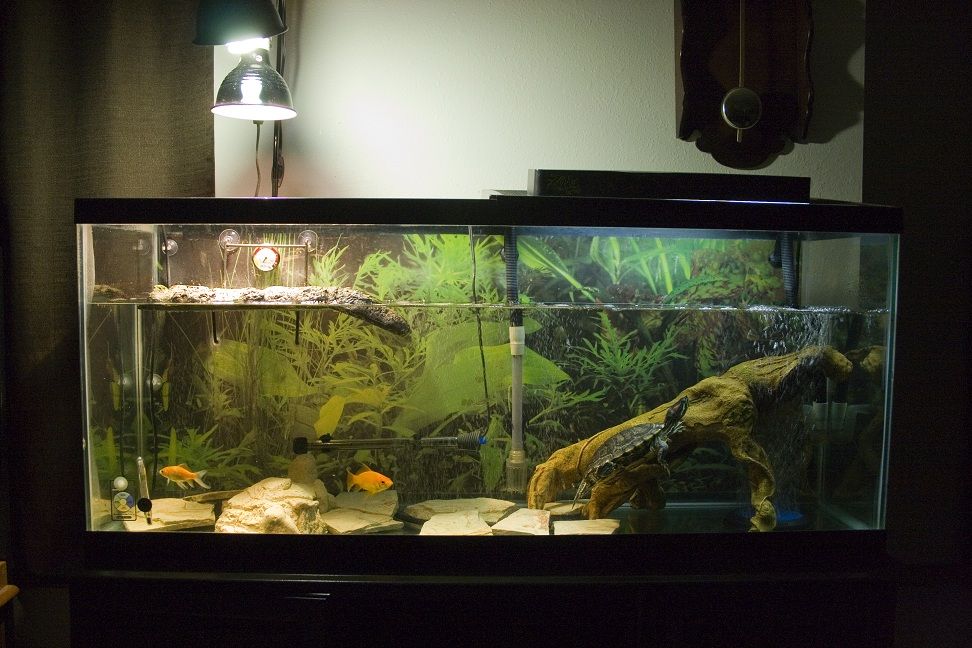 Franklin just loves his log. he spends so much time on that thing. Sleeping under it and on it, hanging by his back feet with his face down onto the bottom of his tank asleep. its his favorite toy.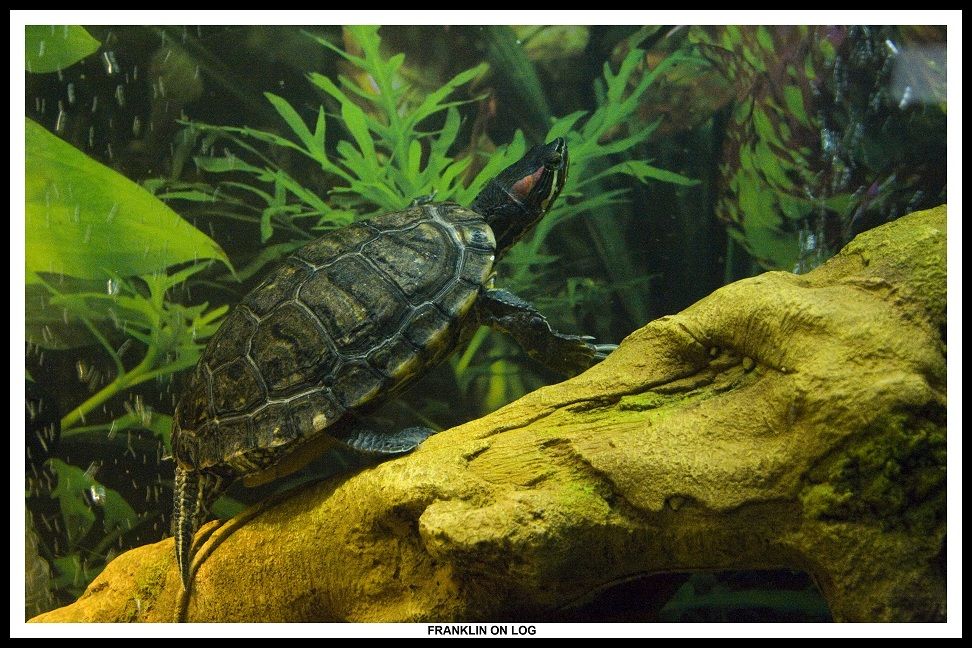 Thanks to Steve and VeipaCray as well as countless others who have shared their time and wisdom with me. I am so happy with how his home has turned out and I can tell each day that he is as well.