Hey everyone,
Just over a year ago my GF was given a baby RES as a parting gift from her job at the time. She and I weren't living together yet, and her mother didn't want a turtle in the house
So I said that the turtle could stay at my apartment (even though I knew nothing about caring for them), and that we could probably just keep it in a plastic bucket and give it some water and... (no idea about food). Well, after doing some research, I quickly realized that if we were going to care for this little thing, a small basin of water wasn't going to do. Right at that point, I became a turtle dad. He was about the size of a quarter when we got him, and already I could tell how intelligent this little creature was. He was more like a puppy than a gold fish, and he was going to be part of the family right away.
So from there, I hit up Craigslist and found a cheap 30 gallon tank. I read all about their diets and had a bit of trial and error for what types of juvenile pellets, lettuce, etc he liked. Then I read that he needed a basking area with a UVB lamp (wth is a UVB lamp?, I said). Researched it and bought a clamp lamp. So fast forward and even further forward, he is a creature that we never imagined would be so important to us living in a city like NYC. I can't imagine not having him, and we're currently in the process of trying to add to the family. *See attached photos below, because we went from a 30 gallon aquarium to a full-blown indoor pond, haha.*
I'd just like to add that whenever I would google questions about RES turtles, I was led to this forum more often than not, and so much that I just got used to certain usernames here and their great advice. If it wasn't for all of you and this community, who knows what road I'd have gone down while trying to care for this little guy. So I thank all of you for your love of turtles, and going so far to give your expertise and experience to the rest of us looking for urgent info to keep our pets as healthy as possible. This is why I wanted to sign up and say hello, and also contribute whenever I can, even though I'm still quite a noob!
So here's our current setup:
-Chris
First I had to acquire the basin. This is a non-toxic 35 gallon basin that I got from Home Depot for about $30.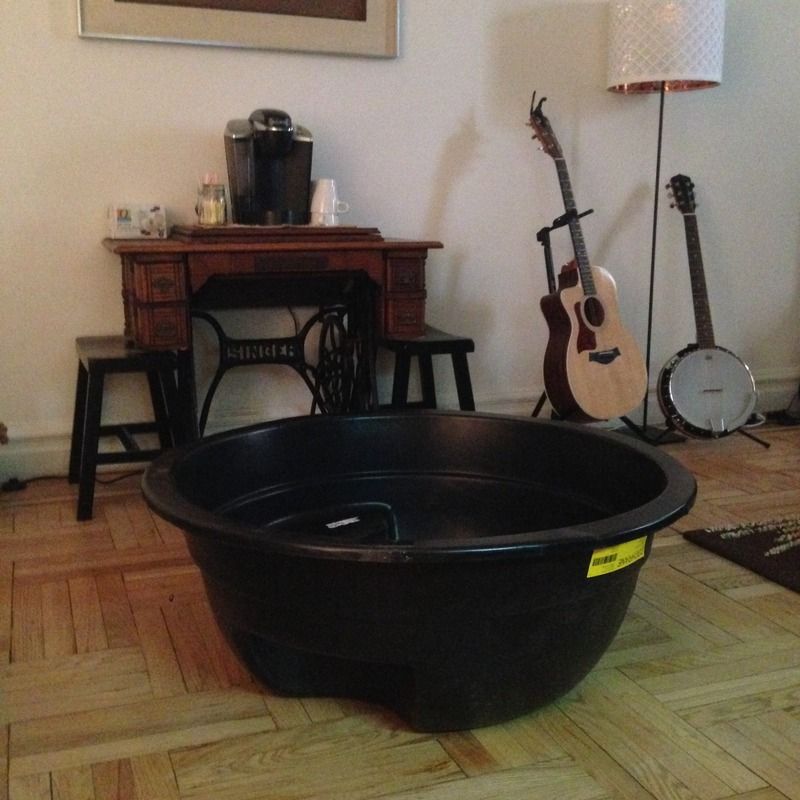 Then I built the frame.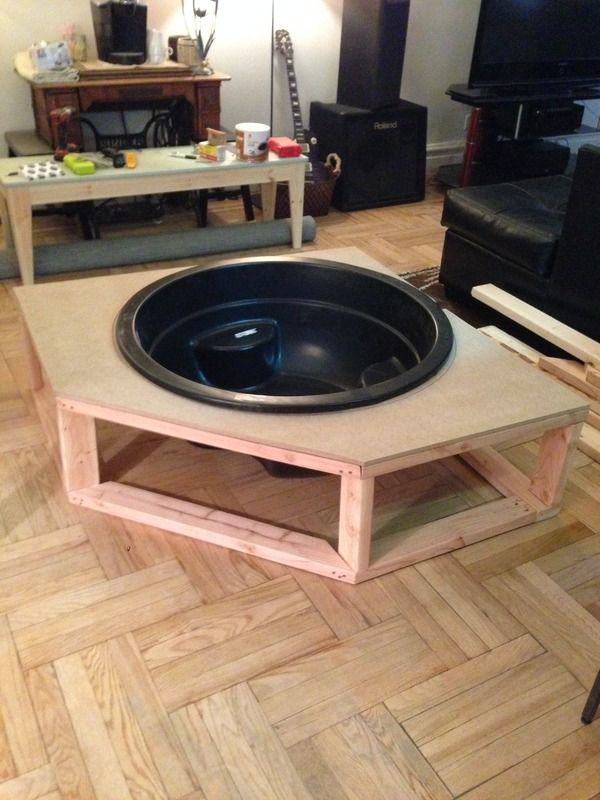 Next I covered the top layer in thick plastic. I don't recall the exact thickness of the plastic, but I doubled it in case there were tears while putting together.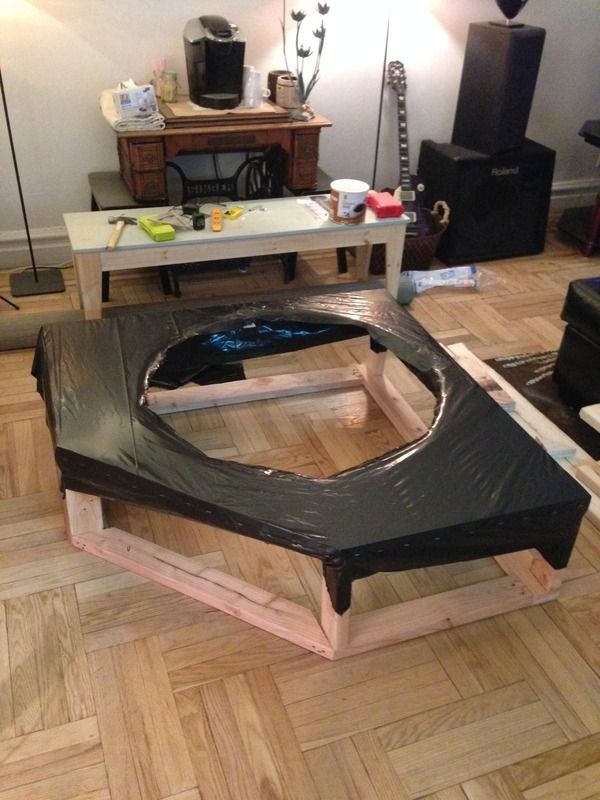 Then i added the faux grass and outside paneling.
Moved it into place. This was designed as a corner piece next to the TV. Looks kinda awkward in this pic, but finishes nicely.
I happened to luck into finding some beautiful fence post that was on the curb, and I used that for the outside of the pond. Free is always better!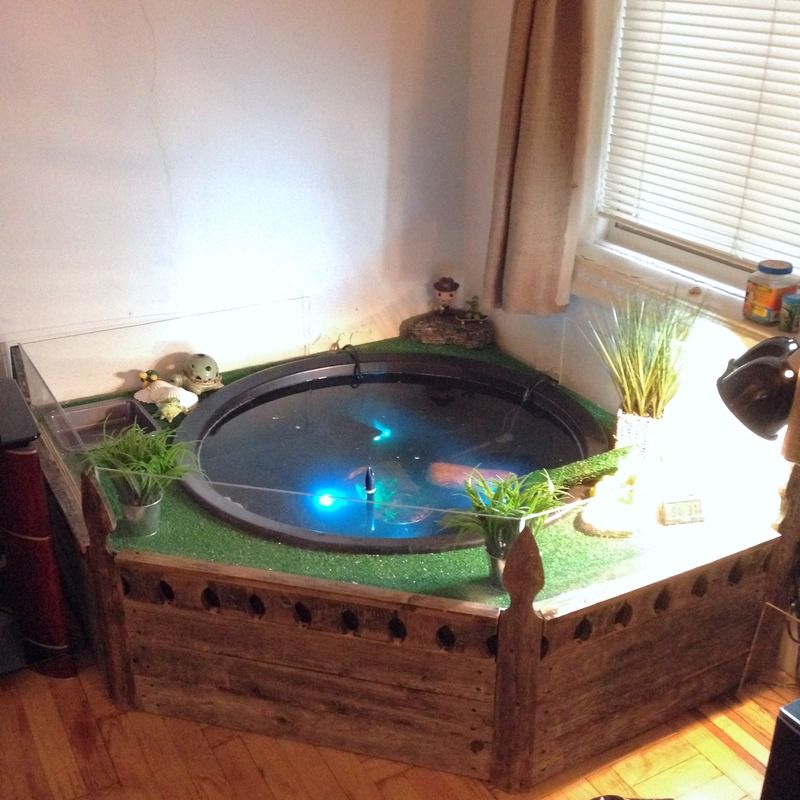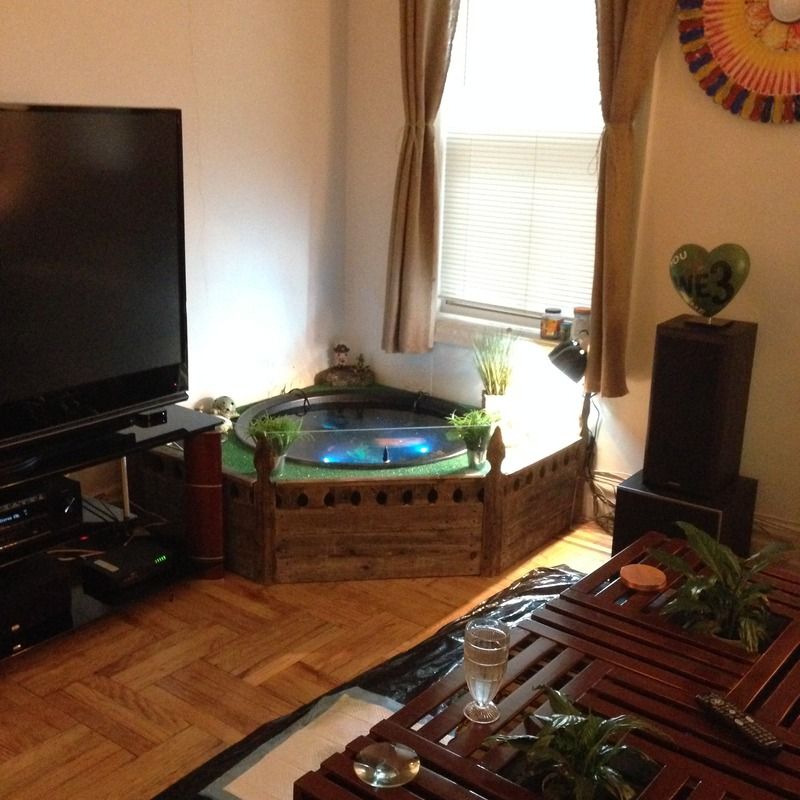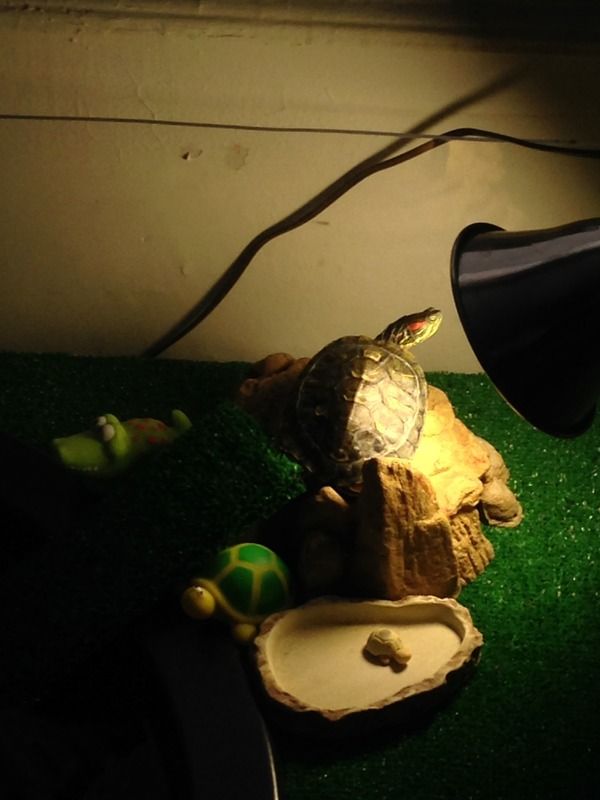 Theres a lot to tweak including his basking area and vegetation, but so far, he/we are loving it. I had to remove the waterfall for the time being because it was splashing on the wall and peeling the paint and creating a pocket of moisture underneath the pond. So my current issue is aeration, but I'm looking into different spouts to solve that problem.
Thank you for looking! Can't wait to become a part of this community